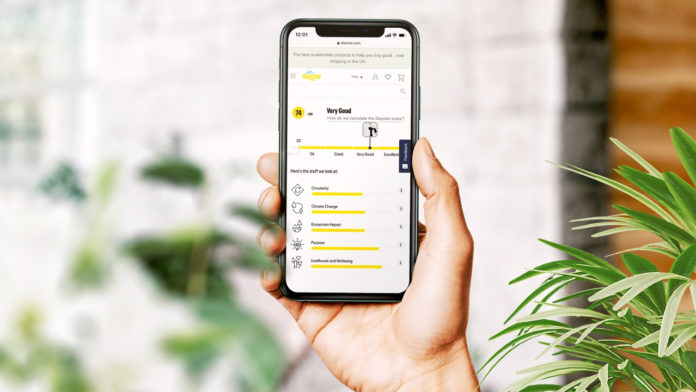 Dayrize, a cleantech startup on a mission to save the planet through sustainable shopping has developed a ground-breaking proprietary sustainability assessment tool which rapidly and robustly assesses the environmental impact of any product in minutes instead of months.
The new tool underpins Dayrize's consumer marketplace, currently running in BETA mode in the UK, and will fully launch later this month.
For the first time, consumers will be able to easily compare the sustainability of all products without leaving the platform they're shopping on, and make an informed decision based on a product's measured environmental impact.
Dayrize was created to meet the needs of a growing conscious consumer base that desires to buy sustainable products but finds it difficult to not only find them, but to make sense of the many labels and claims on the environmental performance of products and companies.
Additionally, the costly, complicated and time consuming nature of Life Cycle Assessments- the industry standard approach for measuring a product's sustainability puts it out of reach for most businesses, leaving consumers in the dark about environmental impacts.
To address this, Dayrize has developed a proprietary sustainability assessment tool which uses artificial intelligence to analyse product sourcing, manufacturing information and various relevant datasets to rapidly and robustly assess and standardise the environmental impact of any product in minutes instead of months. This complex and ground-breaking application of technology, creates a simple output for consumers: a single, meaningful figure they can understand, known as the Dayrize Score.
The Dayrize Score has been developed by a renowned team of scientists with a passion for tackling global sustainability challenges and advancing a circular economy. The methodology for arriving at the score is continuously peer reviewed by leading experts in the field. The score is based on the principle that a truly sustainable product (a score of 100) is one that fulfils a meaningful purpose, is designed in a circular manner, is non-hazardous, responsibly sourced, fully recyclable, and regenerative.
The rigorous score evaluates five key factors across the entire product cycle – from raw material extraction to disposal – which together provide a holistic assessment of sustainability performance.
Vincent Hoogduijn, Dayrize CEO and Co-founder said: "Most people have the intention to shop sustainably but have sadly been underserved by the confusing process of assessing the true impact their purchase has on the planet. Through green washing, many brands have further added to the confusion and inadvertently created a sense of cynicism in many shoppers.
At Dayrize, we wanted to make the process of assessing the sustainability of a product accurate and easy to understand for the average consumer. We've done the rigorous legwork of building a ground-breaking standard that simplifies and democratises sustainable shopping. We hope by doing this, people can begin to see how making small changes in their purchasing habits can add up to huge differences for our planet."
Along with helping consumers make better informed decisions to buy more sustainably, Dayrize will also help its brand partners by offering ongoing knowledge and insights on methods to improve the sustainability of their products and raise their Dayrize Score on the platform.
Dayrize will provide brands that cannot afford to conduct complex and costly product Life Cycle Assessments with information on the environmental impact of their products, and actionable feedback on how to improve their sourcing and production. Even more, Dayrize will also be reinvesting 5% of its annual profits to support its brand partners in redesigning their products and value chains to lower their impact.