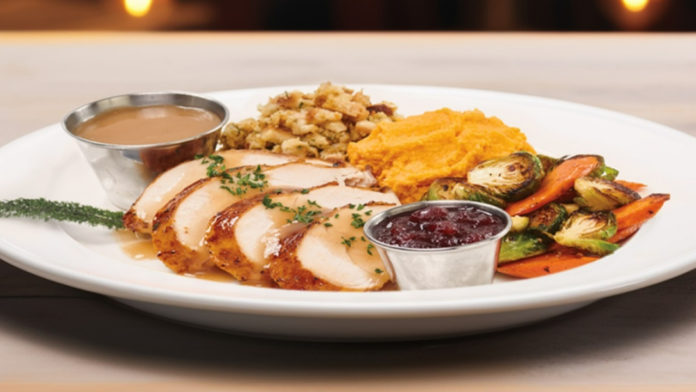 Hard Rock Cafe Manchester is once again bringing family, friends and Americans in Manchester together this Thanksgiving for a memorable US-style feast.
The restaurant's mouth-watering menu, available for just one day, Thursday November 23rd, features traditional American Thanksgiving dishes such as:
Slow-roasted turkey breast, roasted fresh vegetables, homestyle classic stuffing, creamy sweet potato mash, cranberry sauce finished with a traditional turkey gravy.
A slice of classic pumpkin pie topped with caramel sauce and house-made whipped cream.
The Thanksgiving entree is £18.95, although dishes can be ordered separately including a kids plate for the little ones (and those with a smaller appetite) at £8.50, and a pumpkin pie dessert for £7.70.
What's more, a holiday bundle consisting of two main courses and one free pumpkin pie to share can be enjoyed for just £37.90.
Thanksgiving also means Black Friday deals – and Hard Rock Cafe Manchester is no exception; visit the restaurant between 24th and 27th November for 20% off your purchases.*
Always celebrated in the United States on the fourth Thursday of November, Thanksgiving dates back to 1621, when the Plymouth colonists from England and the native American Wampanoag people shared an autumn harvest feast that is acknowledged as one of the first ever Thanksgiving celebrations.