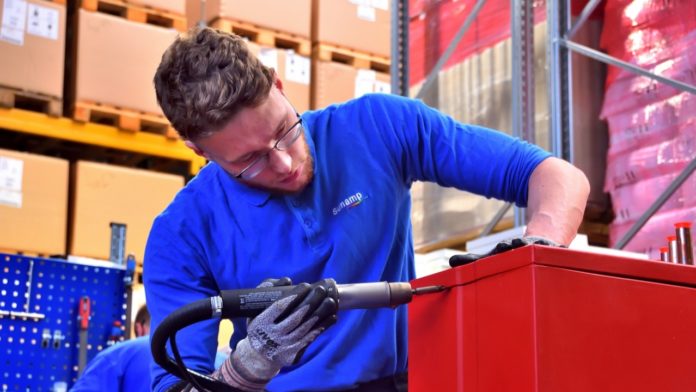 World leading thermal storage company Sunamp and pioneering clean energy ownership platform Ripple Energy have a signed a memorandum of understanding to provide Ripple customers with zero carbon heating and hot water solutions.
Ripple Energy enables people to part-own large scale wind farms to supply their homes with clean, low cost electricity. Ripple partners with utilities to provide the electricity from customers' wind farms to their homes, via the grid. Regardless of property type, tenure or location, householders can now own their own source of clean, low cost power.
Based on phase change material which can capture heat in a variety of ways, Sunamp heat batteries are aimed at maximizing the penetration of renewables and minimizing fuel bills and are the modern alternative to bulky and outdated hot water tanks. They deliver cascades of hot water on demand with savings on utility bills, and have a proven lifecycle of over 40,000 cycles, which is equivalent to over 50 years of normal use.
Ripple Energy will soon offer Sunamp's energy efficient, compact heat batteries to its customers. Householders will now be able to access hot water and heating on demand, all powered by their own wind farm. Consumers could reduce their household emissions by up to 40% by switching their heating to a Sunamp battery and powering it, and the rest of their home, with their wind farm.
Commenting on the agreement, CEO and founder of Ripple Energy Sarah Merrick said: "People want simple, genuinely effective ways to act on climate change. We're really excited to be working with Sunamp to offer people an easy way to heat their homes from their very own wind farm. Electricity from their windfarm will also power other home appliances to drastically reduce carbon emissions."
Andrew Bissell, CEO and founder of Sunamp said: "We are delighted to have reached agreement to provide zero carbon heating and hot water solutions to climate conscious Ripple Energy customers nationwide. We have a shared ambition to bring new choices for consumers who care about home comfort, efficiency and the environment, and our advanced expertise in thermal energy storage has delivered super compact heat batteries which can enable Ripple customers to heat their home using their own wind power."