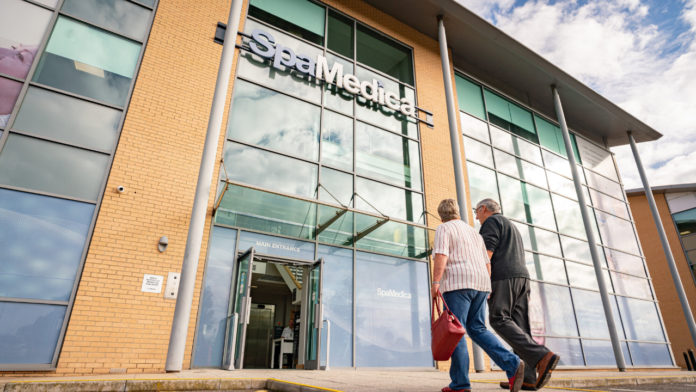 Launched in 2008, the UK's largest provider of NHS cataract surgery has helped thousands of patients and invested in world-class training
NHS eye health provider SpaMedica is marking its 15-year anniversary this month, celebrating one and a half decades of industry-leading patient care and a commitment to investing in the next generation of eye health professionals.
Since the first SpaMedica hospital opened in Manchester in 2008, the company has treated thousands of NHS patients for cataract removal, YAG capsulotomy and wet AMD.
The company currently employs more than 1,700 people and has 49 hospitals across the UK; it also has an industry-leading training provision, with state-of-the-art suites equipped with digital dry labs and the latest ophthalmic technology. Used by NHS staff as well as SpaMedica employees, the suites enable trainee surgeons from across the UK to develop their expertise.
SpaMedica's 15-year milestone is being marked with numerous events and employee engagement activities, recognising team members' contributions to the company's ongoing success.
A social media campaign is also shining the spotlight on SpaMedica patients who have regained their independence and are enjoying their lives post-surgery – such as Jan Hobbs from Derbyshire, who can read to her grandchildren again.
Richard Woodward, SpaMedica's Chief Executive Officer, said: "Reaching our 15-year anniversary is a huge achievement, and I'm incredibly proud of the team for helping us get here.
"I joined the company in 2021 and get to see first-hand our teams' commitment to patient care and their dedication and passion in helping to continuously push industry standards forward. This outstanding teamwork helps us achieve positive patient feedback – including more than 12,000 five-star ratings on NHS UK – and excellent outcomes.
"The future looks very bright, as we continue to grow our services and ensure as many people as possible can benefit from rapid access to high quality treatment."
To date, 12 SpaMedica hospitals have received 'Outstanding' ratings from industry regulator the Care Quality Commission (CQC) – with all hospitals inspected to date (32 in total) rated as 'Good' or 'Outstanding'. Earlier this year, Catherine Campbell, the CQC's head of hospital inspection, described SpaMedica's hospitals in Poole and Gloucester as "an exemplar of best practice which others can, and should, learn from".
Anil Pitalia, SpaMedica's founder and former CEO, said: "I remember when I started SpaMedica 15 years ago, I would say to all our team that we must treat every patient as though they were our own parents. It's amazing to see how this culture of care continues to deliver best-in-class treatments to all patients. It gives me great pleasure to see more hospitals opening and bringing our world class care across the country. We have an incredible focus on clinical outcomes, patient satisfaction and customer care. I wish the team well for their journey of leadership in the field of ophthalmology, as they open their 50th hospital in North Tyneside. I'm honoured to have had the opportunity to be involved with SpaMedica, as a surgeon and as its previous CEO."
Jamie Saunders was the 15th optometrist to join SpaMedica, and the company has subsequently gone on to employ over 100 in-house optometrists. Based at SpaMedica Norwich, Jamie said: "In 2011, SpaMedica launched its post-op accreditation scheme and has since gone on to train over 5,000 community optometrists to carry out patients' post-operative consultations.
"On a personal level, I'm very proud to have played a part in helping so many patients get their sight and independence back over the years, with much lower-than-average waiting times and a fantastic service from start to finish. It's a really rewarding role and it's great to celebrate what we've achieved so far, as we look towards an exciting future."