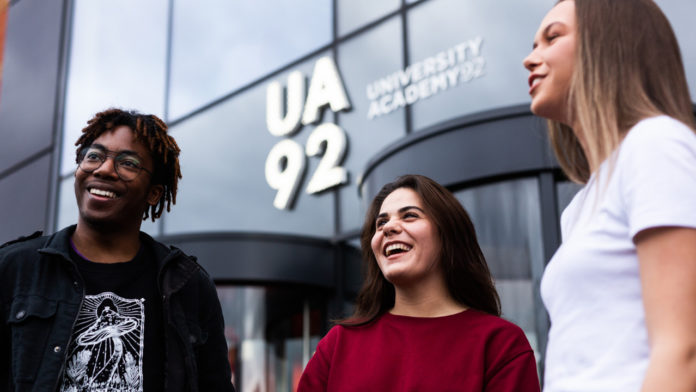 PayEscape has scored a major deal this week, by extending its contract with the University Academy 92 (UA92).
The Ballymoney-based business will continue to provide a dedicated payroll solution for the Manchester higher education institute, which was co-founded in 2019 by Lancaster University and the Class of '92.
Since launching, UA92 has been instrumental in making higher education more accessible through its founding principles of social mobility and inclusivity, and now caters for over 800 students, offering a portfolio of degree and higher education industry-led courses across business, sport, media and digital disciplines.
It opens a Business School campus in Manchester city centre shortly and continues to drive modernisation through the education sector, working closely with leading corporates like Microsoft, TalkTalk, KPMG and Manchester United to offer a unique insight into future career paths through mentorships, guest lectures and work experience opportunities.
University Academy 92's relationship with PayEscape has been instrumental in its expansion, benefitting from a tailored payroll system that has removed administrative headaches and time-consuming tasks for over 200 staff.
The easy-to-use technology has also been key to helping the organisation scale up and support onboarding, promotions, and the recruitment of new staff.
"We first started working with PayEscape in October 2021 as our first independent payroll provider, with the first official run following soon after in January 2022," explained Ann Ramanaden, Head of Finance at UA92.
"The implementation process was straightforward, and its technical team were always on hand to make sure we got the most out of all the different functions and features, including HMRC payments, filing and payment, pension management, pay and tax calculations and P11d processing."
She went on to add: "Any issues we have are quickly dealt with and we really appreciate the fact we are dealing with experienced people, who understand our organisation and what we do. It has been a real gamechanger and I'm delighted that we'll soon be entering our third year with this solution.
"UA92 has a very distinct offer that is proving extremely popular with local, national and international students. As we grow, and with the new business school about to open, we are recruiting heavily and having a versatile and proven payment platform in place will help with scaling-up."
Extension of the University Academy 92's contract is the latest in a long line of recent successes for PayEscape, which is headquartered in Northern Ireland and has a second office in London.
The company has posted 44% growth in the last twelve months and has brought on board major new agreements with the UK operations of Air France-KLM Group and vehicle manufacturer IVECO.
Like UA92, both multi-national organisations turned to the company for the wrap-around service it provides, including access to powerful cloud-based software platforms and the account management skills of highly trained staff that are all accredited to the Chartered Institute of Payroll Professionals (CIPP).
Alex Livingston, Business Development Manager at PayEscape, picked up the story: "We have really enjoyed working with Ann and her team over the last two years and look forward to supporting its outstanding future educational work.
"At the start of the relationship, there was an intensive period of implementation to ensure all data and on-boarding information was completed correctly. We walked them through this and used our intuitive software to remove costly admin errors and avoid time that could be spent doing other administrative roles.
"The growth the organisation is going through is phenomenal, but it can grow safe in the knowledge that its payroll solution can scale with its anticipated expansion."
Ann concluded: "PayEscape has made payroll processing so simple."