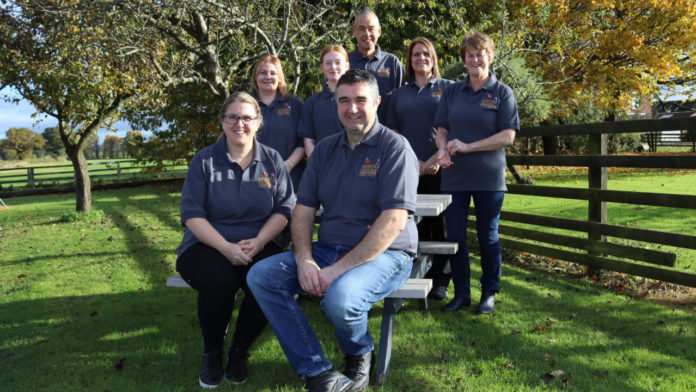 A well-known farm shop and café located between Bedale and Northallerton has been purchased by a local couple, retaining the existing team and already investing significantly in the business.
Mark and Karen Gatenby have taken over Spring House Farm Shop, previously run by Judith Carling and Neil Hellawell, with the objective of continuing to grow its enviable reputation as the home of tasty homemade treats as well as a fully stocked shop packed with locally sourced food and drink.
The couple have retained the existing team and already invested in new equipment, new windows, a brand refresh and have moved to being open seven days a week – with record numbers of covers served.
Mark said: "I was looking for the next chapter in my career and this opportunity presented itself. The business really appealed, and I could see so much untapped potential, so I took it on.
"I want to continue to develop the café whilst also improving the shop to increase footfall. We are now open seven day per week having identified that in the local area most café-style businesses seem to be closed on a Monday. Since opening on a Monday, the business has grown week on week as more and more people discover that we are open."
In addition to a range of tasty homemade meals, cakes and treats, and a very popular Sunday lunch (all available to eat in or takeaway), the café offers 'ready to cook at home' meals including cottage pie, lasagne and mince and dumplings, full-size cakes and desserts made to order and much more.
Mark and Karen are currently in the process of applying for an alcohol license to sell alcohol in both the shop and café and also have plans to install a butchery/deli section that will sell locally sourced meats and cheeses amongst other things.
Mark continued: "My ultimate goal is to increase the size of the farm shop to allow for a bigger seating area for the café and also a bigger shop and car park, but that is for the future as for the moment we are totally focused on improving the existing space to give our customers the best possible experience. But we're excited to keep Spring House Farm Shop as a family business, owned and run by local people."
The farm shop and cafe is ideally situated on a main road and is easily accessible from the A1 so appeals to both regular customers, tourists and those looking for something other than a motorway service station as they pass through on their journey.