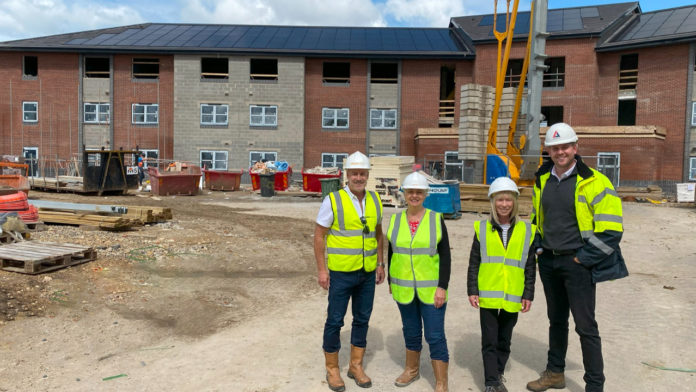 Arlington Real Estate, the developers of DurhamGate, has welcomed a significant milestone in the construction of a care home being built at the major mixed-use development in County Durham.
The DurhamGate Care Home, which will be the second home for Adore Care Homes, has reached 'topping out stage', which has been marked by the completion of the installation of its Solar PV roof panels.
Due to open in November, the care home is situated at the heart of DurhamGate and is designed to provide luxury care and comfort for elderly residents, with an emphasis on health, happiness, vitality and wellbeing.
The care home's construction is a pivotal part of the larger DurhamGate scheme, which is one of the largest new residential and business communities in the North East.
Through a collaboration between Arlington Real Estate and Adore Care Homes, the new home aims to create a space where senior residents can enjoy being part of one of the North's leading mixed use neighbourhoods whilst enjoying a peaceful and supportive environment and benefitting from DurhamGate's ever growing sense of community spirit.
DurhamGate, which already boasts more than 680 homes, has rapidly evolved into one of County Durham's most dynamic and sought-after communities. This transformation has been accompanied by significant investment, amounting to approximately £100 million.
The community is set to grow further after Arlington Real Estate submitted plans for a further 96 homes, which will be a mix of two, three and four-bedroom houses.
As with previous phases at DurhamGate the new housing will be delivered within a high quality landscape setting and a detailed consent is also being sought for the next phase of DurhamGate's parkland, which will be enjoyed by the whole of the community.
The DurhamGate Care Home will feature 66-bedroom suites, with full en-suite shower rooms in each, providing residents with comforting and private personal space. It will also feature a cinema, library, landscaped gardens, a bar, tearoom, garden room, and a beauty salon.
Dean Cook, Managing Director of Arlington Real Estate, said: "This care home will be a welcome addition to the community we are creating at DurhamGate and I am delighted to see the progress of the construction.
"We are delighted to be working in close collaboration with Adore Care Homes, which share our vision to create a vibrant and diverse community at DurhamGate and we look forward to welcoming the first residents when construction is completed."
Maria Booth, the Quality Care Director for Adore Care Homes, said: "We're dedicated to setting new standards in elderly care, ensuring that residents receive the utmost attention, respect, and assistance they deserve."
Karen Johnson, the General Manager of The DurhamGate Care Home, said: "We've taken a person-centered approach to the design of the care home. With an emphasis on luxury living, our residents will be cherished and well-cared for in fabulous surroundings. We provide nutritious balanced home-cooked meals, a personalised activities programme, including movie nights in our cinema and then there's always time for cake and a chat in our tea room."