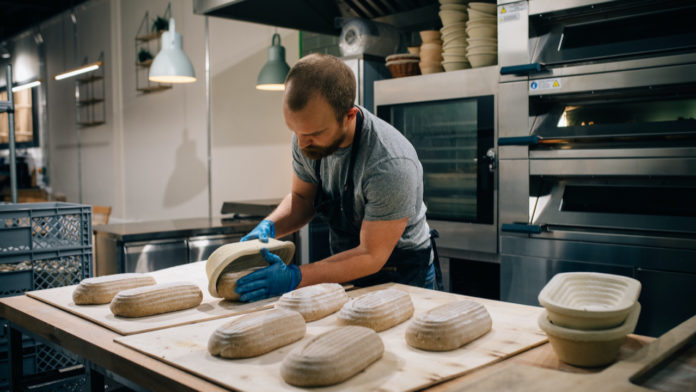 A Stratford-upon-Avon artisan bakery that was set to open a week before the COVID-19 lockdown is going from strength-to-strength after cooking up a new community-centric blueprint.
David Pearson and his wife Danni were gearing up to launch MOR Bakery & Kitchen from their new premises in Bell Court in mid-March, after 11 months of preparing the business as well as building the premises.
It came after David, who has spent the past eight years in marketing, eventually took the plunge to leave behind his day job to start up the sourdough bakery, which can host up to 25 covers and an open kitchen area where customers can see their breakfast and lunch being freshly made.
The Covid-19 lockdown dashed any immediate hopes of unveiling the new bakery – prompting David and Danni to think on their feet about other ways that they could kickstart the business.
David said: "Starting a bakery up at a time when the nation is being instructed to stay indoors sounds incredibly challenging, but we saw it as an ideal opportunity to help people.
"Myself and Danni soon realised that just because pubs and restaurants were closed, the same didn't apply to their suppliers. Prior to lockdown, around 30 per cent of food consumed in the UK was through pubs and restaurants, and it was obvious that supplies would be sitting there that could be redirected to the general public via ourselves.
"We are currently sourcing produce such as milk, butter, eggs, flour and fruit and vegetables locally that we can then pass on to vulnerable people in our community – both via deliveries and a collection service that we are operating in line with social distancing guidelines from the bakery's takeaway hatch in Bell Court."
MOR Bakery & Kitchen is currently operating Wednesday to Sunday between 10am and 4pm, where it is baking and serving around 90 loaves of bread a day, and carrying out approximately 50 deliveries a week.
The bakery's name – particularly the term "MOR" which is the Swedish word for mother – references the Scandinavian influence on the appearance and ethos of David and Danni's new bakery, as well as the ingredients of their bread, pastries and sweet treats.
Danni added: "The elderly community and those with underlying health conditions have told us how grateful they are for the service we are offering at a time when spaces for home deliveries from major supermarkets are at a premium.
"We are also seeing younger people integrating a visit to the bakery as part of their daily exercise to instil a dose of normality into what are difficult and unprecedented times.
"Both myself and David can be working up to 14-hour days to keep up with the current demand – but we love what we do, and the feedback that we are receiving on social media motivates us to continue serving the public even more.
"Hopefully it will also stand us in good stead when the worst of the pandemic is over and we have returned to something approaching normality."
Mark Ryder, Strategic Director for Communities at Warwickshire County Council, praised the agile approach that MOR Bakery & Kitchen had taken on so early in its life.
He commented: "Launching any business during a global pandemic is no mean feat, and David and Danni deserve a lot of credit for how they have risen to this challenge whilst making a positive difference to the community that they serve.
"MOR Bakery & Kitchen is another fantastic example of the many businesses across Warwickshire who are diversifying their services and combining innovation with compassion to support the most vulnerable in society."